Hey guys! Welcome back to my little slice of the internet. Sorry, I've been kind of quiet- life has been crazy lately. We moved a few weeks back. Yes, we moved again. But SAME CITY- only 25 minutes away from Santa Monica to West Hollywood/Beverly Hills area of LA. We are finally feeling somewhat settled into the new place. It's a lot more space than our studio in Santa Monica but it's def dated and in need of some TLC ya know? Nonetheless, it has "charm", like what those people on HGTV always say 😉 
One of my goals this year was to find a place in LA with more space, a better long term solution for living here. It feels good to cross that off the list. Now that the year is halfway over (so insane), I reviewed my goals again to see what else I need to refocus on. One of the bullet points? Travel- specifically abroad. So I'm starting to feel that itch, the good ol' travel bug.
The hubs and I celebrated our 2 year wedding anniversary just last month and were reminiscing about our honeymoon to Greece, the last time we were in Europe. We visited in June, flew in and out of Athens, and went to 3 islands- Mykonos, Santorini, and Naxos. It was seriously one of the best vacations I've ever had, and such a nice mix between touristy shit like sightseeing along with relaxation and laying around on the beautiful beaches.
Greece Trip Itinerary for 2 Weeks
Actually, my little sister just got married a couple months ago (check out her healthy-ish LA bachelorette party itinerary in this post here). They used our Greece trip itinerary to plan their own honeymoon and we've had a number of friends reach out to use it as well over the last couple of years.
So, I thought it would be fun to document on the blog. This way, selfishly, I can always revisit as a reference OR it can serve as a resource if you all are in need of some good reccs and inspo for a summer vaca, Euro-getaway style. Of course, this itinerary is filled with healthy spots and even some organic, 100% plant-based restaurants! Enjoy! And, please let me know your own Greece trip itinerary reccs!
XOXO, Dani
Greece Trip Itinerary for 2 Weeks
Trip Length: 12 Days (2 weeks)
Flight From: Dallas, To: Athens, Greece (we were living in Dallas at the time, before LA!)
Greek Islands Visited: Mykonos > Naxos > Santorini
Day 1: TRAVEL
Day 2: Arrival into Athens 
Pick up Atkina Travel (arrivals) for ferry tickets

Take Metro Line 3 Airport to Syntagma Square

Check in at Hotel Amalia

Lunch at GC George Café (by hotel)

Tour Acropolis

Dinner at Balcony Restaurant & Bar
Day 3: Athens > Mykonos 
Take Syntagma Metro Line 3 to Monastiraki (change) 

Monastiraki Metro Line 1 to Piraeus 

Piraeus to Mykonos (Buy ferry tickets at port for departure)

Check-in Vencia Boutique Hotel (the hotel will pick you up at the ferry port if you notify them of arrival time!)

Lunch at Popolo

Dinner at M-eating

Drinks at Interni or Alley Cocktail Bar or Skandinavian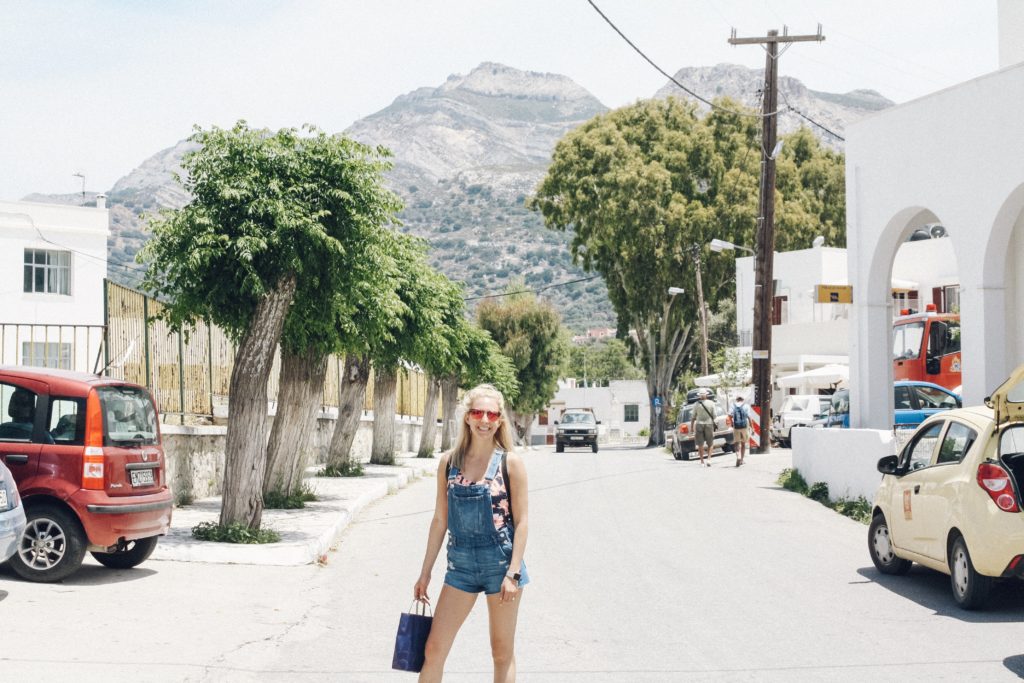 Day 4: Mykonos 
Breakfast at Vencia Boutique Hotel

Enjoy the hotel pool or bus from town to Platis Gialos Beach

If you head to the beach, grab lunch and layout at Yialo-Yialo

Check out Paranga Beach too, walking distance from Yialo-Yialo

Dinner at Joanna's Nikos Place (right on the water!)
Day 5: Mykonos 
Breakfast at Vencia Boutique Hotel (we ate there every day for breakfast because the spreads were so delish and fresh!)

Lunch at Kastro's

Bus from town to Paradise Beach

Dinner at Catari 

Also check out Kastro's Little Venice! 
Day 6: Mykonos > Naxos 
Buy ferry tickets at port for departure

Hotel to pick-up (again, notify of arrival time again!)

Check-in Hotel Glaros (very cute, art decco vibes)

Lunch at Nissaki

Dinner at Sarris Tavern 

Drinks at Swing Bar

 
Day 7: Naxos 
Breakfast at Café Lotto

Rent car (multiple places all around the hotel to do so as this island is very mountainous!)

Drive from Naxos to Chalki and then Chalki to Filoti (little villages all throughout Naxos)

Lunch at Nicolas Restaurant in Filoti 

Drive Filoti to Apeiranthos and then Apeiranthos to Koronos and finally Koronos back to Naxos

Dinner at Nostimon Hellas 
Day 8: Naxos > Santorini 
Breakfast at Hotel Glaros

Naxos Port to Santorini Port 

Hotel to Pick-Up again

Lunch at Floga Lolita's Gelato Shop

Dinner at Karma (our FAVE spot from the whole trip!)
Day 9: Santorini 
Catamaran Cruise (aton of local businesses offer and the hotel can help you book!) Highly recommend.

Dinner at Fino Cocktail Bar & Restaurant 
Day 10: Santorini 
Lunch at Pito Gyros

Wine Tour (again, hotel can help you book! Lots of local options as Santorini is known for their wine.)

Dinner at Hungry Donkey 
Day 11: Santorini > Athens
Short flight from Santorini to Athens 

Attalos Hotel at 29 Athinas 10554 Avocado Nikis 30 Athina 105 57 

Dinner at Avocado (VEGAN restaurant in Athens I was obsessed with!) 
Day 12: TRAVEL 
Breakfast at Telaro

Monastiraki Metro line 3 to Airport

Travel home
Ferries/Flight Info That May Be Helpful
Piraeus to Mykonos (Blue Star Ferries) 

Mykonos to Naxos (Fast Ferries)

Naxos to Santorini (Sea Jets) 

Santorini (JTR) > ATH / Aegan Airlines

Delta from DFW > JFK > Athens