Do you think being plant-based won't be satisfying?
Are you working from home and craving hearty comfort food to eat on the couch after a long day of ZOOM meetings?
Are you feeling a little gross after bingeing all the snacks and not feeling motivated to workout?
Are you looking for a bit of a reset after being at home all year but you're not quite ready for a bunch of salads?
Introducing, the GREEN GIRL AT HOME E-BOOK.
3+ days of plant-based comfort food recipes to get you through the rest of these cozy nights at home.
My special offer to support you all, only available during this unique limited time.
Reboot, reset, and satisfy your quarantine appetite.
Green Girl At Home E-Book
12 different recipes and a custom Amazon store shopping list so you can get as many ingredients as possible delivered to your door! E-book includes 3 hearty breakfasts and 7 simple yet satisfying comfort food meals for lunch or dinner. Plus some fun beverage recipes like my matcha latte and a yummy smoothie to feed any sweet tooth! This book is designed as a starter guide with 3 full days of eating a delicious plant-based diet for breakfast, lunch, dinner, and even snacks. I've purposefully included recipes that are easy enough for even a newbie chef! Majority of recipes take under 30 minutes to make with just 2 taking 45-60 (including cook time.)
And for a little extra support, I'm offering diet revamp sessions!
Green Girl At Home E-Book + Diet Revamp Session
Feeling like you have all the questions about eating a more plant-based diet? Looking for some guidance but totally unsure where to even start? Would having a coach to talk to help you stick to it and feel good in your body? In addition to the e-book recipes, this purchase includes a diet revamp session! A 50-minute zoom session with me where we review your current diet and I send you a custom list of alternatives for healthier, plant-based swaps. You get the e-book FREE with purchase of this session as my little gift to you!
And before you go, check out some of this client love!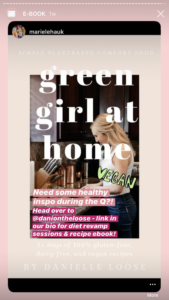 Thanks for stopping by! As a certified health coach, I'm passionate about helping busy, millennial women balance the pressures of daily life starting with plant-based nutrition. My recipes are designed so that you're receiving an adequate amount of protein, fats, carbs, and greens through whole foods, with minimally processed ingredients and lots of vitamins and minerals. I also focus on what is quick and easy to make in the kitchen with meals that a roommate or husband will enjoy as well! Xoxo